University graduates, young designers and entrepreneurs benefit from special talent promotion programmes. Messe Frankfurt supports their presence at the most important platform for new products and innovations and enables them to take their first steps into the consumer goods market.
Talents
Young designers from the field of Interior Design are invited to apply for a booth in one of the talents areas. In addition to free exhibition space, in a special designed area, the talents-program offers participants a high-grade platform for networking, obtaining direct feedback and making important contacts to trade and industry.
The application deadline has expired.
Hall 8.0: Interior Design
The Ambiente promotional program offers young designers the chance to make a presentation at the exhibition free of charge. The promotional program is open to all young designers who are not yet established in the sector. There is no charge for taking part. Applications should be made by submitting the registration form, together with photos that give a clear idea of their products, to the email address given.
The diversity of participants chosen will ensure that a broad variety of designs are exhibited in the display. Acceptance or rejection for the promotional program will be made by email approx. two weeks after the registration deadline. Participation in the promotional programme is not transferrable. The participation in the promotional programme requires personal attendance and a continuous product decoration/presentation at your cost-free assigned booth during the entire period of the event.
The free exhibition stands include:
Stand space  and construction of about 9 sqm within a specially designed area
Sign writing
Carpeting
Electricity connection & Lighting
Platforms for product presentation
Exhibitor and guest tickets
Stand guard at nights
Insurance of the exhibits
Free promotional materials
Production of a brochure incl. all participants
PR activities
This special offer does not include accommodation, travel expenses and other costs.
Participants will be sent further details about the promotional programme with the acceptance email. Deadline is 22 October 2019.
Next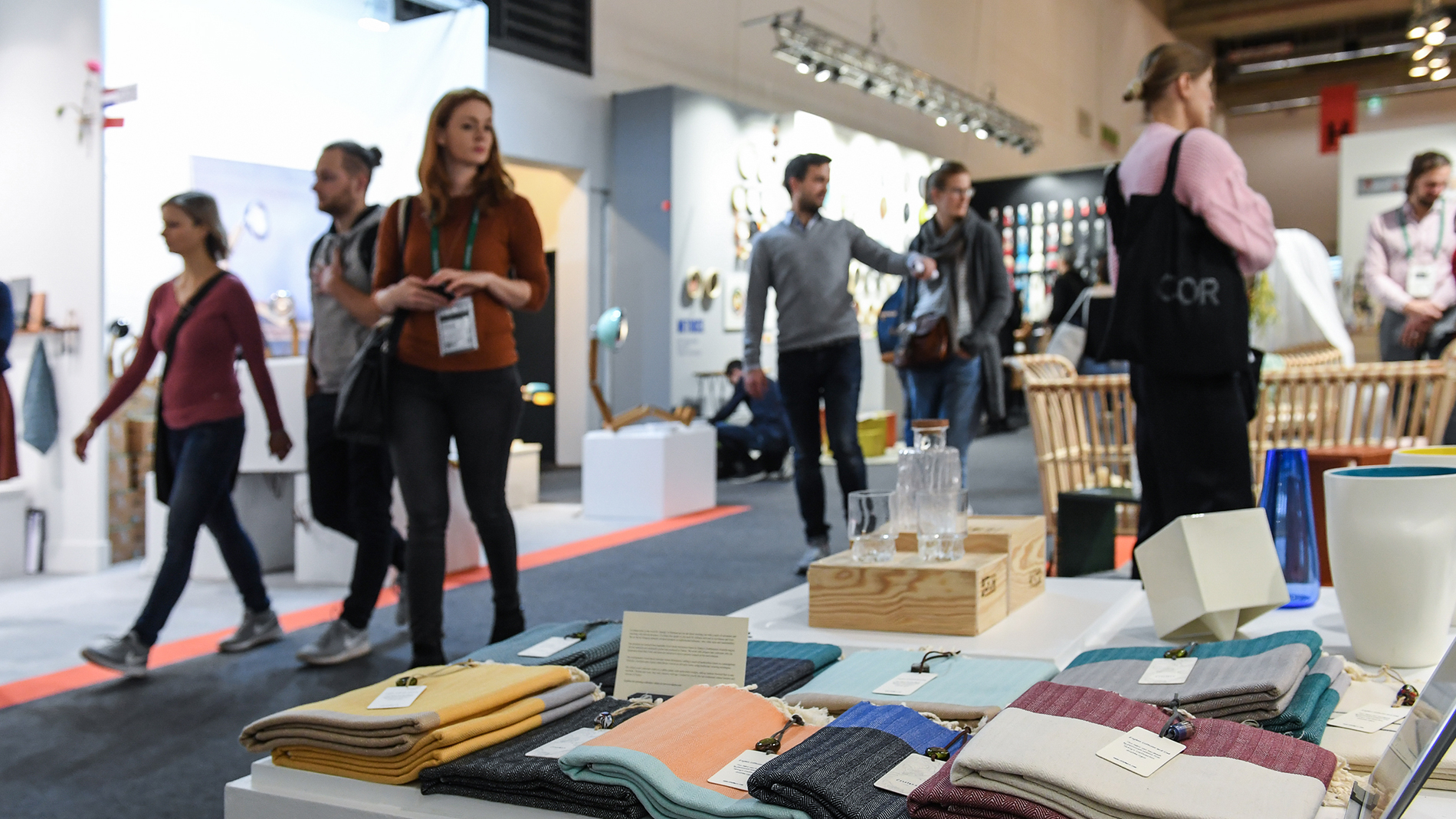 Creative young companies introduce themselves at the "Next" area in the Living sections. Here they can sell their unusual and trendsetting products to interested buyers who often seek out their stands specifically.
Interior Design / Hall 8.0: D14, D16, D18, D20, E11, E13, E15, E17, E19, E21
The application deadline has expired.
The package price for the NEXT stand is EUR 1.500,00 plus reduced media package of EUR 299,00 plus AUMA-fee1 per EUR 0,60/sqm and environment-protection charge2 of EUR 2,90/sqm plus VAT.
The facilities and services provided by Messe Frankfurt within the NEXT Area:
Stand space within a specially designed area 

Carpeting

Electricity connection (1-3 KW) 

Lighting 

Platform 

Exhibitor and visitor tickets 

Stand guard (nights) 

Entry in the official catalogue (Obligatory Media Entry) 

This arrangement does not include accommodation, travel expenses and other individual costs.
Deadline: 24 October 2019
1 AUMA-charge: The AUMA charge is EUR 0,60 (net) per square metre. AUMA, the Association of the German Trade Fair Industry, represents the interests of exhibitors, visitors and organisers. More information on the AUMA range of services is available at www.auma-fairs.com.
2 Environmental fee: An environmental fee amounting to EUR 2,90/sqm will be added to the stand rental for the stand type.