Messe Frankfurt ensures a particularly safe event participation for you with a professional safety concept.
Information on holding taking into account the current infection situation (SARS-CoV-2)

The German Infection Protection Act (Bundesinfektionsschutzgesetz), which take effect as of 1 October 2022, authorises federal states to take individual measures to stem the SARS-CoV-2 pandemic depending on the level of infection. The regulation of restrictive measures is due to the need to protect the German healthcare system and to keep critical infrastructure functioning.
At present, we do not expect there to be any access restrictions such as 2G or 3G any longer. We also assume that it will be possible to hold trade visitor events without capacity restrictions or any other fundamental constraints.
The focus is on the individual responsibility of each person taking responsibility for not exposing themselves or others to an unreasonable risk of infection.
In order to protect all guests, participants, organizers, service partners and also its own staff, Messe Frankfurt has adapted its operations to the current situation. Our ventilation systems are operated with the highest proportion of fresh air as possible, which still meets the official energy requirements. Adjusted cleaning intervals and disinfectant dispensers provide additional security.
We recommend you:

Avoiding crowded situations if possible, or wearing a medical mouth and nose protection if necessary.
With a precautionary and regular self-test for the SARS-CoV-2 virus, you minimize the risk for yourself and others.
The same applies to a coronavirus vaccination, which minimizes the risk of a severe course of the disease and the risk of infection for yourself and others.
After 2 years of strict conditions, we are returning to largely regular event operations on the exhibition grounds and buildings of Messe Frankfurt.
General Notice:

The current legal requirements for occupational health and safety can be found here: SARS-CoV-2 Occupational Health and Safety Ordinance (German only).
Current information about your entry
It is generally possible for trade fair participants to enter the country from abroad. Participants in a trade fair are regarded as business travelers with an urgent need to travel. You can find more information on entry for participants in German trade fairs on the website of AUMA, the German Trade Fair Industry.
Last updated: 16 September 2022

For questions about Covid-19 measures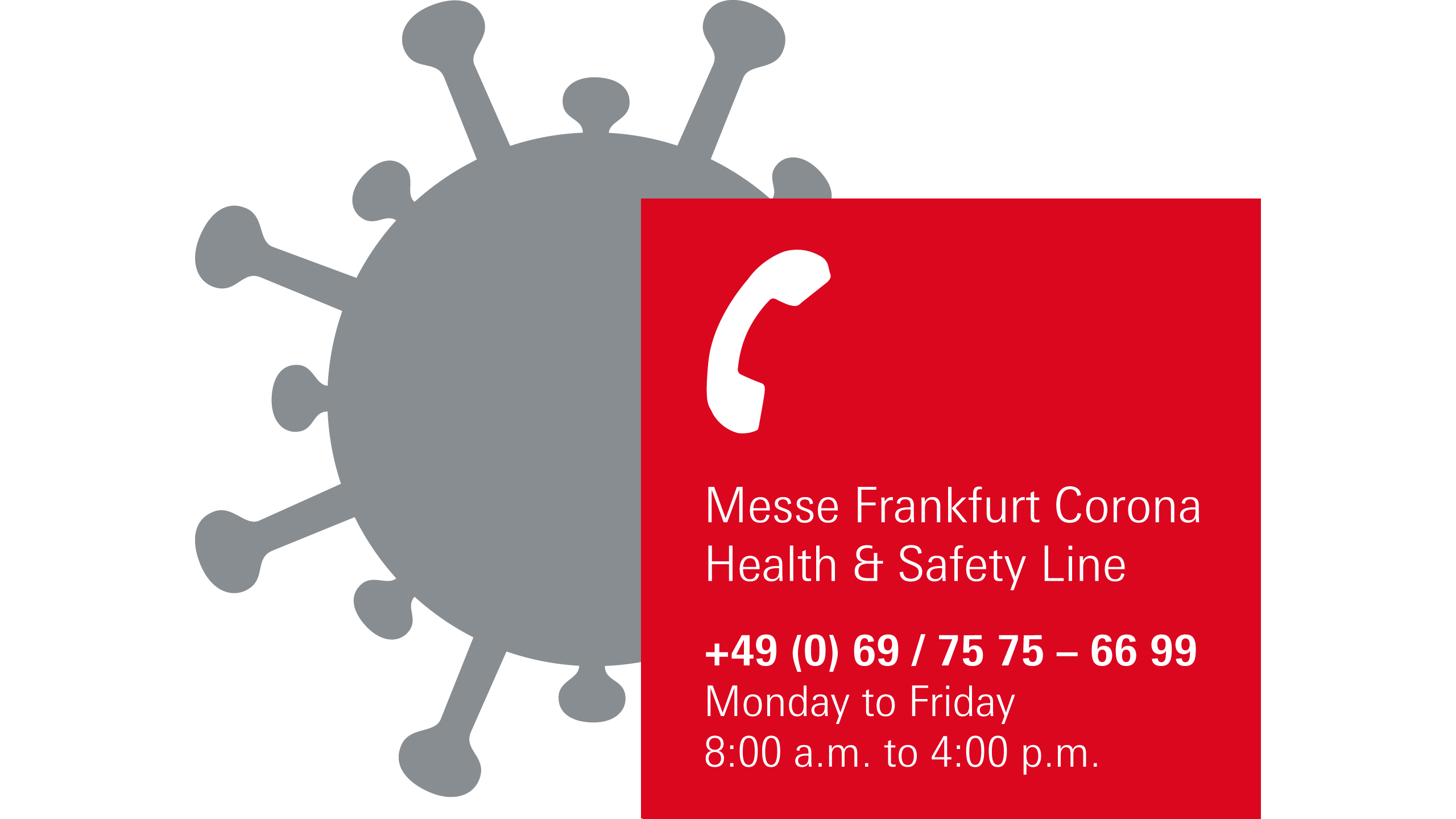 Do you have any questions about Messe Frankfurt's measures to prevent infection during stand construction and dismantling, the staging of events, or about individual trades such as catering or cleaning of exhibits at the exhibition stand?
Then you are welcome to contact our Corona Health & Safety Line personally at +49 69 / 75 75 - 66 99. We are available by phone from Monday to Friday from 8 a.m. to 4 p.m (MEZ).