The Lifestyle Movement
New perspectives open up unexpected opportunities. And as the world's leading consumer goods trade fair, Ambiente, from 26 to 30 January 2024, reflects the changes in the market and looks towards the future. It shows a unique mix of ideas and products – and provides a major platform for global trends. Out-of-the-ordinary concepts offer inspiration for successful business.
New market, new structure
Only Ambiente offers such a comprehensive overview of the global range of consumer goods. The Dining area at the fair is the number-one showcase for table, kitchen and household products. At the Living area, you will find all the latest styles around interior design, furnishings and decoration. The Giving area presents a diverse array of gifts and personal accessories and now also includes premium stationery and school supplies. The new Working area demonstrates in concrete terms what the working worlds of tomorrow will look like. The Contract Business and HoReCa segments offer intersections with potential for expansion. It also focuses on major current themes such as sustainability, new work, design, lifestyles, future retail and the Digital Expansion of trade. What's more, it is the ideal forum for forging contacts and finding new business partners.
Ambiente will be held in parallel with Christmasworld and Creativeworld in Frankfurt am Main, thus creating new synergies. This includes, among other things, the expansion and merging of the Global Sourcing section of the three leading trade fairs into a joint offering.
Latest news: Digital Academy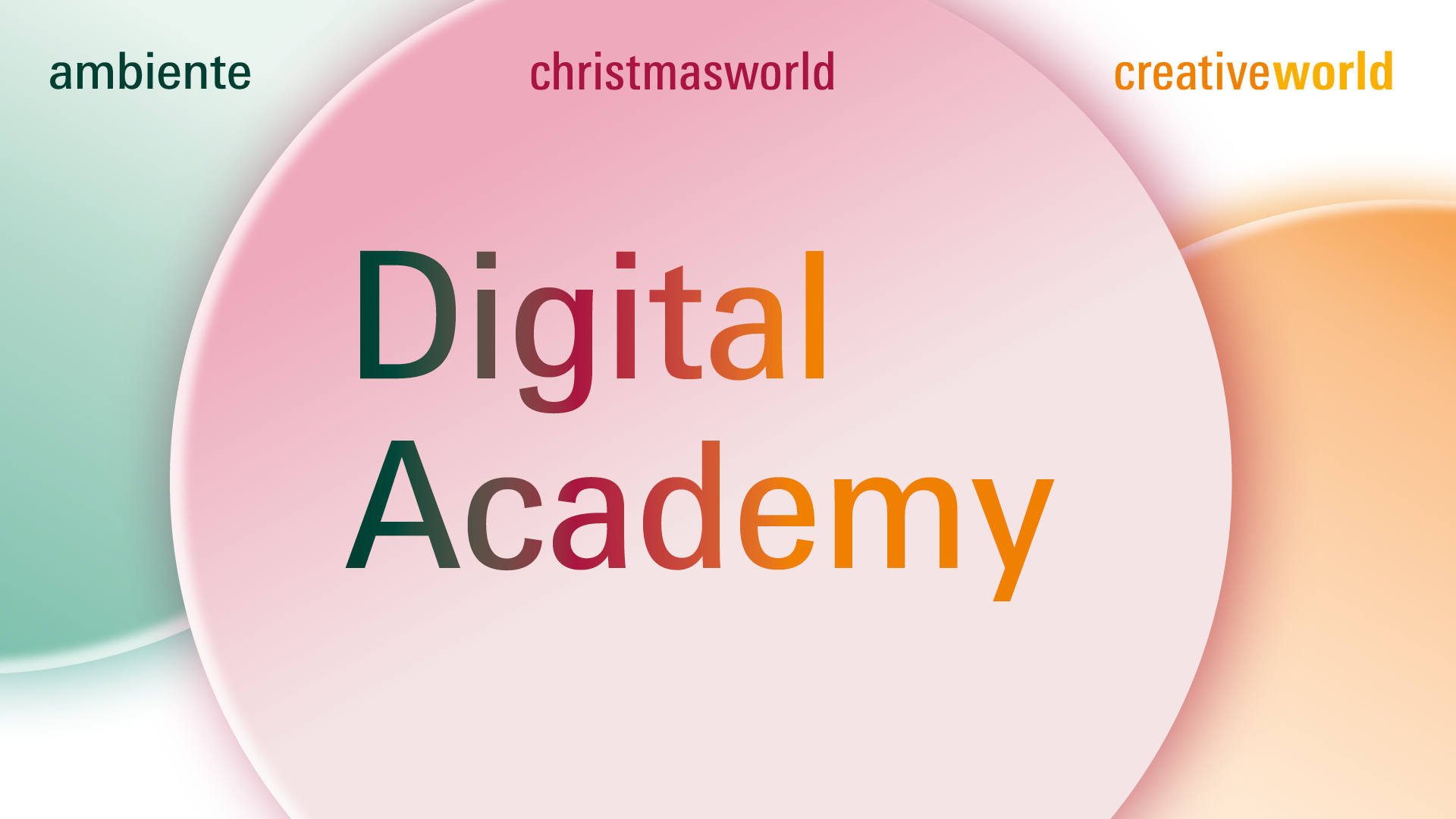 On July 5, 2023, at 10:00 a.m., the second installment of the Digital Academy's online events will kick off with the topic Future Retail - Insights China:
The future of retail using China as an example.
Participate now and be part of it. Participation is free of charge
TO THE REGISTRATION
Ambiente 2024: Be there!
Be there from 26 to 30 January 2024 and benefit from the expertise and vision of the leading international trade fair for consumer goods with the Dining, Living, Giving and the new Working sections.
Impressions 2023