At Ambiente you can see the most important international styles at a single venue. Stilbüro bora.herke.palmisano has been commissioned by Messe Frankfurt for the special presentation "Trends 2020" to research the shapes, colours and materials that will inspire consumers around the world and to showcase the three most important trends using exhibitor products.
Trends 2020
New challenges inspire innovative solutions. Completely new creations emerge from the demand to manufacture products sustainably and to develop environmentally sound closed-loop models.
shaped + softened
Functional furnishings achieve a sculptural quality by adding soft shapes and emphatic contours in reduced, neutral colours.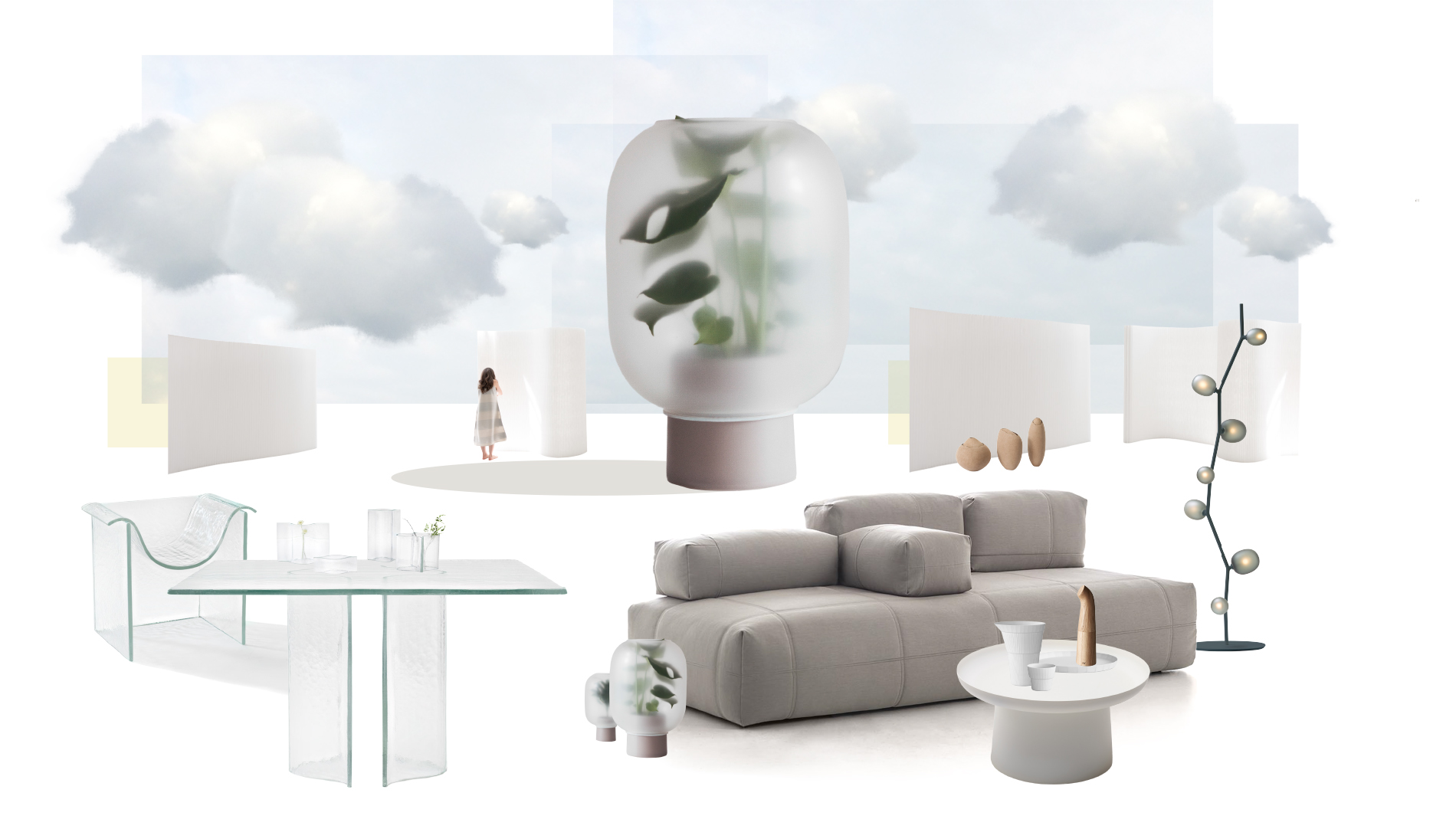 precise + architectural
Pared down to the essentials: Striking combinations conjure up a strong material aesthetic with an industrial ambience.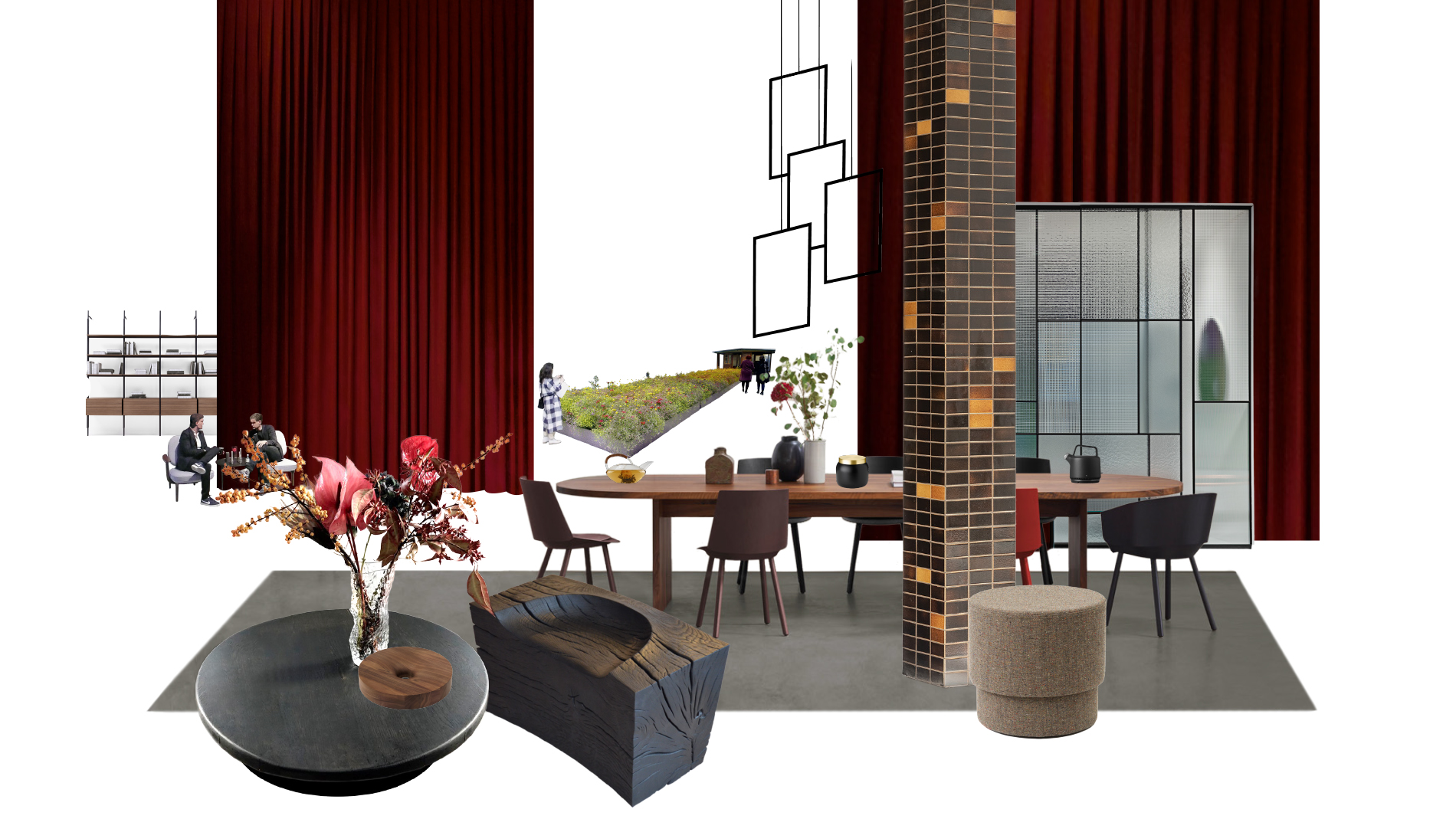 artistical + diverse
This multidisciplinary interaction between art, craft and digital technology is characterised by unusual materials and a creative use of manufacturing processes.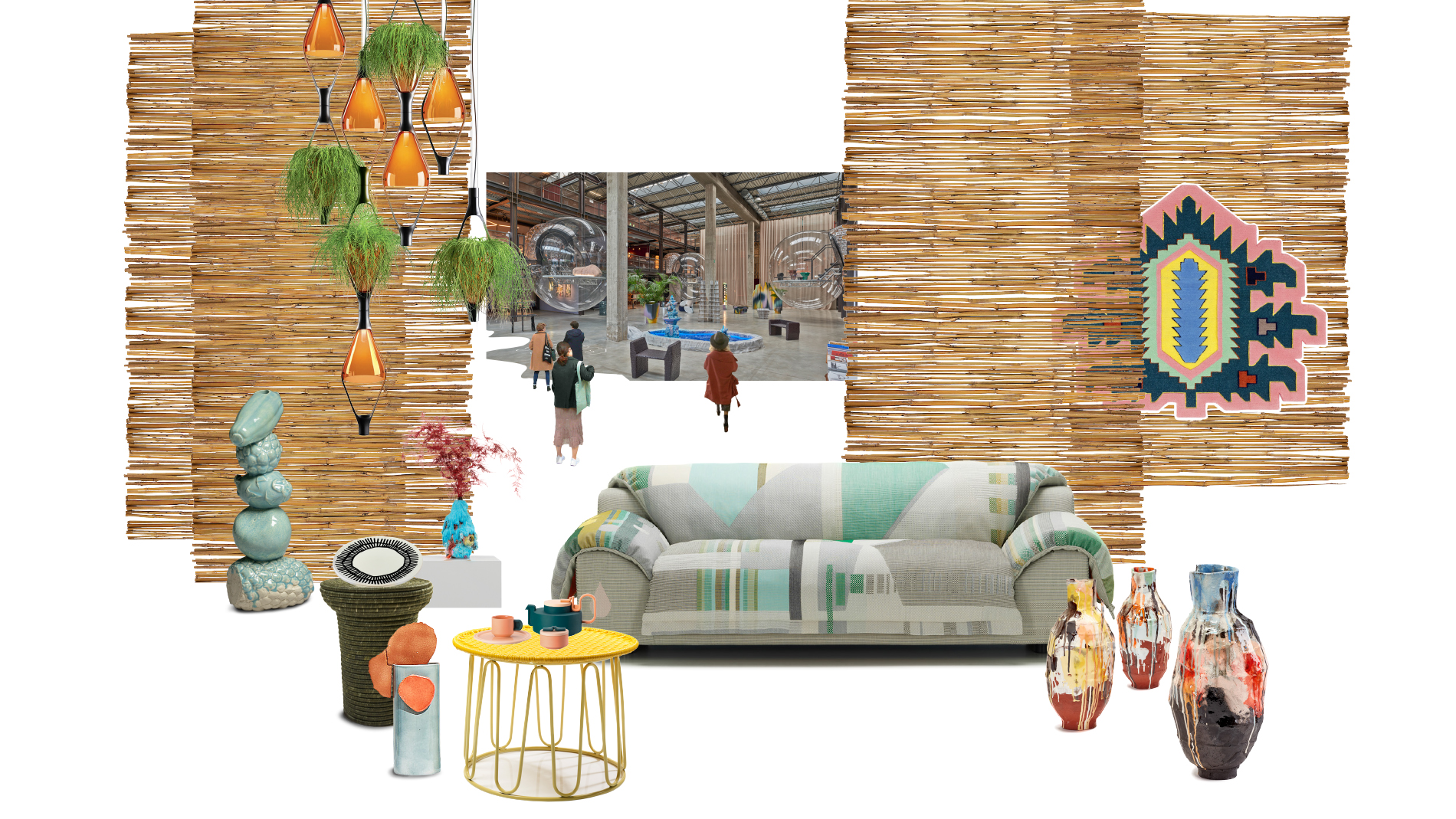 Extend your knowledge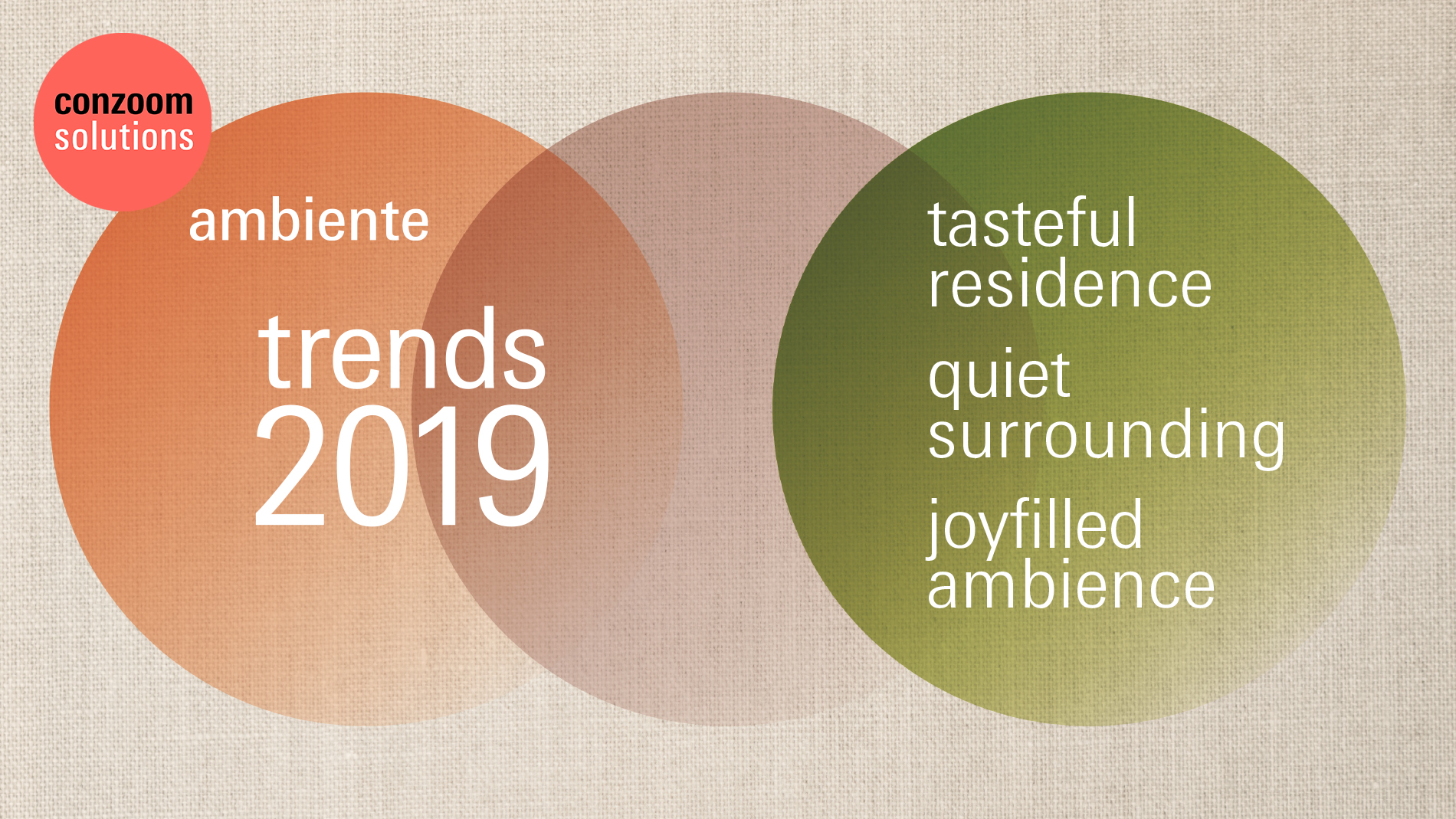 You can find out more about what's in and what's not in an exclusive "Trends 2019" review and interview with Claudia Herke from the Stilbüro bora.herke.palmisano. These are available on Conzoom Solutions, Messe Frankfurt's new online platform providing practically oriented support for the trade.
The trends in detail
Mood
1 textile softwall by molo, design by Stephanie Forsythe + Todd MacAllen
2 Nebl by Studio Rem for Gejst
3 Melt by nendo for WonderGlass, photo Akihiro Yoshida
4 AeroZeppelin Sofa by Diesel Living with Moroso
5 Carafe, Cup, Plate by Tijmen Smeulders for UTSUÀ, photo Pim Top
6 Musette Side Tables by Ionna Vautrin for DeVorm
7 Mill by Jakob Wagner for Ro Collection
8 Collection Ivy designed by Lucie Koldova for Brokis, photo Martin Chum
9 MANTIQUEIRA by Domingos Tótora for Tacchini, photo Andrea Ferrari
Materialien
1 Muse by Calico Wallpaper and Faye Toogood
2 Kiriyama by Kiriyama Glass Works x Formafantasma for Japan Creative, photo Sohei Oya, Nacása & Partners Inc.
3 Waste No More by Eileen Fisher
4 textile softwall by molo, design by Stephanie Forsythe + Todd MacAllen
5 Dinesen Oak with White Oil finish
6 Flow by Jakob Wagner for Muuto
7 Nebl by Studio Rem for Gejst
8 Linen by LinenMe
9 Carafe, Cup, Plate by Tijmen Smeulders for UTSUÀ, photo Pim Top
10 Mill by Jakob Wagner for Ro Collection
0 Archive/example
Mood
1 Jack by Michael Anastassiades for B&B Italia
2 No Man's Land installation by Raf Simons for Kvadrat
3 IKIGAI Teapot by Hein Studio
4 ASHIDA by Philipp Mainzer for e15
5 Collar ice bucket by Daniel Debiasi & Federico Sandri for Stelton
6 ExCinere by Formafantasma for Dzek
7 SHERAZADE PATCHWORK door by Piero Lissoni for Glas Italia
8 Ostrea Rock by Hein Studio
9 O Fruit Bowl by Mark Braun for Hem
10 Curved Block Seat by Jim Partridge & Liz Walmsley, courtesy of the LOEWE FOUNDATION © LeChuck Studio
11 SILO by Hans Hornemann for Normann Copenhagen
12 501 Kettle by Vipp
Materialien
1 MARI CRISTAL by Philippe Starck for Glas Italia
2 Noise cushion, Kvadrat/Raf Simons collection, courtesy by Kvadrat
3 SHIRAZ by Philipp Mainzer + Farah Ebrahimi for e15
4 NACRE by Yabu Pushelberg for Glas Italia
5 SELLA by Carlo De Carli for Tacchini, photo Andrea Ferrari
6 Curved Block Seat by Jim Partridge & Liz Walmsley, courtesy of the LOEWE FOUNDATION © LeChuck Studio
7 SPLIT by Claesson Koivisto Rune for Tacchini, photo Andrea Ferrari
8 SHERAZADE PATCHWORK door by Piero Lissoni for Glas Italia
9 Phlox cushion, Kvadrat/Raf Simons collection, courtesy by Kvadrat
10 YKRA kitchen counter with marble trash Terrazzo by Shizuka Saito & Ykra architects
11 501 Kettle by Vipp
12 Madera by Enzo Mari for Danese
0 Archive/example
Mood
1 Viceversa by Noé Duchaufour Lawrance for Kundalini
2 FAR curated by Studio Vedèt for Nilufar, photo Pim Top
3 Fruit Towers by BCXSY, project "A New Layer Taiwan" curated by Pro Materia/Spazio Nobile, funded by NTCRI
4 Nomade by Paola Navone for Serax
5 Vase by Vincent Dermody for Normann X Brask Art Collection
6 side table la che by Sebastian Herkner for ames, photo Andres Valbuena
7 Découpage Vase/Studio Bouroullec, Studio Bouroullec © Vitra
8 side table circo by Sebastian Herkner for ames, photo Andres Valbuena
9 Tongue by Bethan Laura Wood for Rosenthal
10 Vlinder/Hella Jongerius, Marc Eggimann © Vitra
11 Hallstattpieces by Elke Sada
12 Rug Invaders, Palmette Lazer Cannon carpet by cc-tapis design-lab
Materialien
1 MenhirBENCH by Dirk Vander Kooji
2 Backstitch by Raw Edges for GAN
3 Kolho by Made by Choice and/with Matthew Day Jackson
4 Rug Invaders, Tabriz Destroyer carpet by cc-tapis design-lab
5 Nester by Elke Sada
6 Fruit Towers by BCXSY, project "A New Layer Taiwan" curated by Pro Materia/Spazio Nobile, funded by NTCRI
7 Smash Objects by WHY-J
8 stool cana by Pauline Deltour for ames, photo Andres Valbuena
9 Paravent by Odd Matter for Nilufar, photo Daniele Iodice
10 Capriccio by Elke Sada